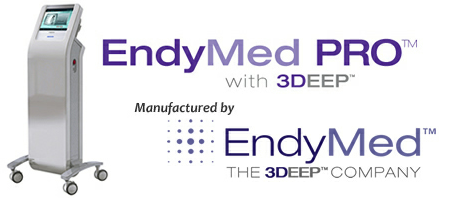 Just in time for this hot summer, a new skin tightening treatment using both non-fractional and fractional RF technology rather than light energy is now available at Ancaster Laser Medispa. Trying to keep up with the latest research and science, we felt it was time for us to upgrade our radio frequency technology. Since radio frequency is not a laser, it is completely safe to do these treatments during hot summer months. It is also safe for those of you who are sun tanned or are on photosensitive medication.
EndyMed Pro is the first multi-source, fractionally ablative radio frequency (RF) device used to simultaneously heat deep tissue and fractionally ablate the dermis to address aging, skin laxity and scars. Using 3DEEP technology, the EndyMed Pro Fractional Skin Resurfacing device reduces wrinkles, skin laxity, skin roughness, hyperpigmentation, and scars (including acne scarring) in all skin types. In one pulse, the EndyMed Pro delivers deep dermal volumetric heating pulses to reach deeper dermal layers to promote collagen remodelling to reduce wrinkles and scars while providing immediate and long lasting skin tightness. In that same singular pulse, the EndyMed Pro also performs micro-fractional ablation to the epidermal layer to provide a smoother and brighter skin surface.
Handpieces For Skin Tightening and Body Contouring
EndyMed provides you with the flexibility to customize your EndyMed treatment platform to suit your needs, with unique and innovative 3DEEP RF handpieces that provide revolutionary aesthetic treatments to tighten and contour the skin on large body areas, reduce cellulite and improve patients skin tone. Developed by experts in dermatology and RF technology to treat larger body areas, these handpiece are specifically designed to treat the abdomen, buttocks and thighs for the improvement of skin laxity, cellulite, body shaping and circumferential reduction.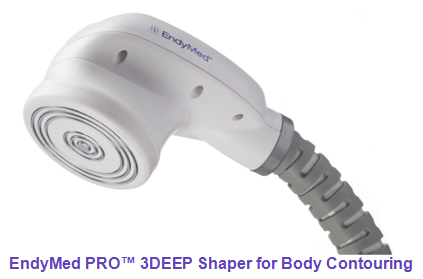 Introducing the New ENDYMED Shaper
The Shaper is uniquely engineered to maximize the efficiency and efficacy of delivered RF power, tightening lax skin, improving the appearance of cellulite and reducing body circumference.
This major innovation is the ideal solution for the treatment of larger body areas. 
Smoother, tighter skin around the waist, abdomen, buttocks and thighs

Reduction in the appearance of cellulite

Reduction in body circumference

Shorter treatment times (20 minute abdomen treatments, 30 minute cellulite treatments for the thighs and buttocks)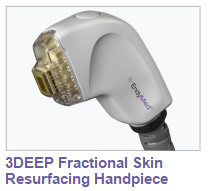 Specially designed for fractional skin resurfacing and the treatment of skin roughness, hyperpigmentation, wrinkles and scars on both facial and body areas.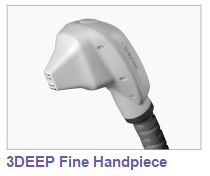 The iFine handpiece is specifically designed to treat the hard to reach, delicate skin tissue around the eyes, eyelids and mouth. The revolutionary iFine handpiece provides:
Smoother, tighter skin around the eyes

Reduced under eye sagging and improved eye contour

Reduced hooding to reveal more of the eyelid

More youthful, less tired looking eyes

Reduction in the fine lines around the mouth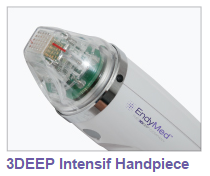 The next level in fractional microneedle RF skin remodelling, the Intensif is designed to treat acne scars, deep wrinkles, stretch marks and other conditions requiring deep dermal heating, with minimal discomfort and downtime.
3DEEP Treatments Help You Look as Young as You Feel
For most people, looking good and feeling young is a high priority. People want smoother skin, fewer wrinkles, reduced cellulite and firmer body contours. And yet, with today's busy lives, time is clearly a valuable commodity.

So optimize your time and maximize your results by embracing these simple, quick, and painless aesthetic treatments that feature 3DEEP RF technology. Enjoy immediate visible improvement and long-lasting results. Feel younger with clearer, more attractive skin.
With EndyMed's aesthetic face and body treatments, you will enjoy more comfortable procedures with excellent aesthetic results, less pain, and less downtime.

By adding 3DEEP body Shaper to your Z Wave cellulite treatments you can achieve desired look much faster and more effectively. Also, don't forget your neck and arms. They can be improved as well with this new multi-platform EndyMed Pro RF technology.
.